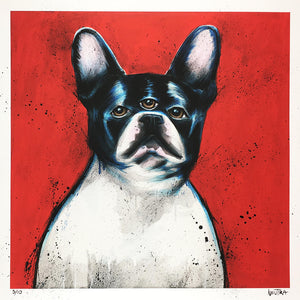 Originally painted and sold at my Only Natural solo show at C.A.V.E. Gallery in Los Angeles.  
Do you have some unanswered questions about life?  Do you have some secrets you wish you could share with someone?  Fret not.  This wise pup knows all.
Hand Embellished with black paint splatter
Archival pigment print on 100% recycled Sugar Paper
24x24 Inches
Limited edition of 10
Signed and numbered by the artist.